NOUN Virtual Exam Application Form Portal, Requirements & Policy: The National Open University Of Nigeria (NOUN) online examination form and Policy for 2022_1 Semester is currently out.
Students can now request for the virtual exam for 2022_1 semester by completing the procedures we will list below. The NOUN Virtual Examination application deadline is 11:59 pm on 15th April 2022. All Students demanding the virtual exam this semester should note that their virtual exam will take place as scheduled on the physical exam Time Table.
RECOMMENDED: How to Take NOUN Virtual Exam For Undergraduates & Postgraduates
To apply, use the link below and make sure you read the modalities and instructions also with the requirements.
To apply for NOUN virtual examination, visit https://dea.nou.edu.ng/2022_1_virtual_requests OR https://dea.nou.edu.ng/node/381157
General Requirements for NOUN Virtual Exam 2022.
REQUIREMENTS FOR THE 2022_1 VIRTUAL EXAM AS STATED BY THE MANAGEMENT
Evidence of registration files (Merge all documents in a single file)?
Uploads of evidence that you are eligible for the virtual exam such as:
International Passport
Present country Visa page
Present Country Mobile Number
Valid Hospital Documents that indicate why you will not be at the physical exam venue
Valid Evidence you are going to be away from your study centre location based on national assignment
Other supporting documents
DRAFT POLICY FOR ON-DEMAND EXAMINATION IN NATIONAL
OPEN UNIVERSITY OF NIGERIA
Student must apply for examinations by completing the electronic application form for on-demand Exams
The student should have done course(s) and examination(s) registration(s) and must have been cleared by the Study Centre Director for the examinations.
The student should sign an undertaking that he/she is computer literate enough to do virtual exams.
The student must have interacted with his/her Course Material for a minimum of 8 weeks from the date of course registration. The student must also show evidence that he/she has taken TMA 1-3 for all the courses they are demanding to sit for the examinations.
There must be a "Preceptor" to supervise the exams wherever the student is taking the exams.
The Directorate of Examinations and Assessment will determine the date and mode of the examinations.
The Head of Department (HOD) must have provided Test Items for the courses to be examined.
All other rules and regulations approved by the University Senate for the conduct of examinations must be adhered to.
Sample of NOUN Virtual Exam Application Form & Policy.
Director, Examinations and Assessment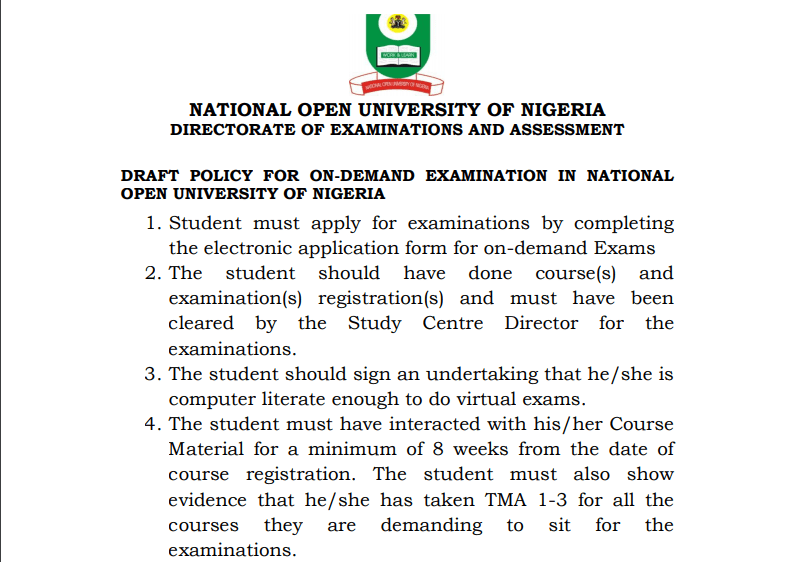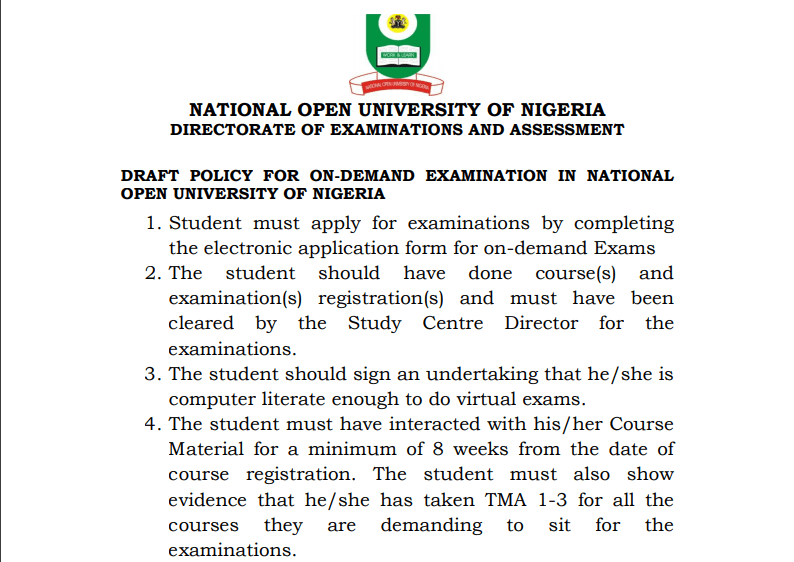 Preview of NOUN Online/Virtual Exam Application Form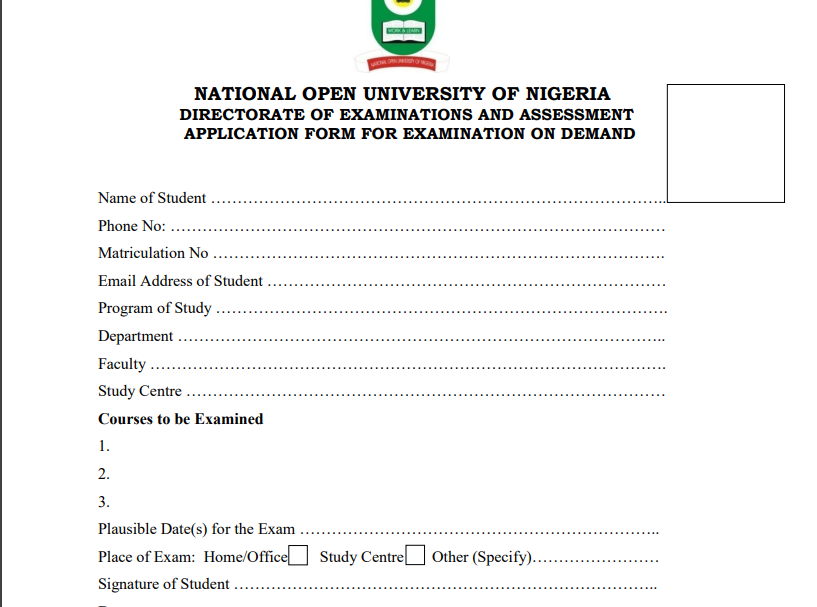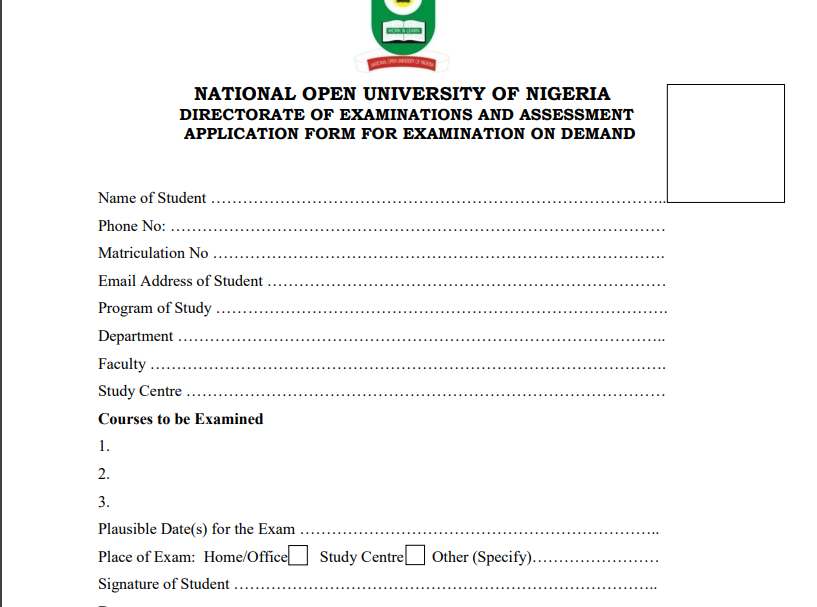 RECOMMENDED POST: